Share
Regular price
$59.95 USD
Sale price
$55.99 USD
Unit price
per
Sale
Sold out
BioLite Headlamp 330:
Reimagine what hands-free light can be with the BioLite HeadLamp 330. HeadLamp combines an ultra-thin front with rebalanced weight and smart fabrics to create a fit so comfortable; you'll think you're simply wearing a headband. With 330 lumens, spot, flood, and red night vision, this headlamp is ready to illuminate your next adventure.
This headlamp is a bit larger than the BioLite Headlamp 200. Otherwise, they have a lot in common. We really like the simple design and simple charging functionality. It accepts a micro USB that is very common to find and hooks various charging sources. This is a multi-use headlamp that would be great for all campers. That is why we recommend this headlamp for ages 5 and up based on the strap size. Also, the headlamp's lock function makes it a bit harder to figure out for younger kids. In all, we carry this brand because of the quality, simplicity, and ease of recharge. For these reasons, we are big fans of BioLite, and we hope you become fans as well.
Biolite 200 vs. Biolite 330 Headlamp
The Biolite 200 is a tempting option, given the cost savings. The decision will come down to where and how long you use the headlamp. The Biolite 200 is about 1 ounce less in weight than the Biolite 330 and costs about $15 less. Otherwise, they have similar light modes, runtimes, and fit styles—no bad choices for either headlamp. If you're going to be using the headlamp around camp, then the Biolite headlamp 200 is a better option. But, if you're planning on doing more hiking, then consider the Biolite headlamp 330.
Biolite 330 vs. Petzl ACTIK CORE Headlamp
The differences between Biolite and Petzl can be remarkable. Both these headlamps are quality headlamps that deserve consideration. Most notably, the Petzl ACTIK CORE and Biolite 330 are similar in weight, although the ACTIK CORE offers 450 lumens vs. 330 lumens. The Petzl ACTIK CORE does make up for this in price. If you're looking to make multiple-day trips, take a look at the ACTIK CORE, which has the option for AAA batteries. Otherwise, the Biolite headlamp 330 is a great value at a similar price. Biolite prides itself on compact, lightweight, and practical headlamps. This is why they've become popular. Both offer micro USB charging, which makes recharging simple. Also, consider a portable battery.
BioLite Headlamp 330 Specifications:
3D-Molded Front: Electronics are integrated into fabrics for an ultrathin light that sits flush on the forehead and moves with you seamlessly
One-Handed Tilt: Lighting articulates without rigidity so you can see what's below you quickly.
Smart Fabrics: Moisture-wicking materials keep you dry and comfortable with no abrasion.
USB Rechargeable: Ditch the battery swaps and recharge easily via micro-USB from a BioLite Stove, SolarPanel, or PowerBank.
Gravity Friendly: The power source is relocated to the head's base, reducing slippage and keeping weight off the face's front.
Weight: 2.24oz
Lumens: 330
Run Time: 40 Lo / 3.5 Hi
Battery: 900 mAh Lithium-Ion USB Rechargeable (Micro USB)
Lighting Modes: Red Flood / White Flood / White Spot / White Strobe
Water Resistance: IPX4
Beam Distance: Flood (16M), Spot (75M)
View full details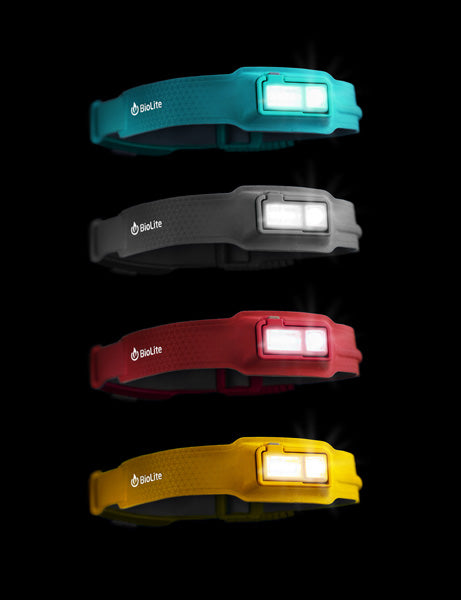 Free Shipping to Alaska, Hawaii, and US

No surprises at checkout, unless you live internationally the price you see is the price you pay. Simple and uncomplicated.

Shipping Info

Hassle-Free Exchanges

Buy with confidence!! We will ensure you get the right product you intended to buy. We offer 100% money back or exchanges for the right size.

Returns Info