Share
Regular price
$14.99 USD
Sale price
$10.99 USD
Unit price
per
Sale
Sold out
The Gracie Goes BowHunting book is a great way to help your child read and learn about the outdoors. Unique in presentation as there aren't many children's hunting books. The book offers great full-color pages, easy-to-read text, and nice soft covers. The story teaches responsibility, environmental stewardship, and strong family relationships. Grace Goes BowHunting is an 8 1/2 x 11, perfect-bound, paperback, children's book. It includes 32 beautifully illustrated pages, all of which are in color. It also includes a, "My First Deer," page for your little hunter to tell the story of his/her first deer hunt. The book is for children aged 1-2. Gracie Goes BowHunting is at a 2nd-grade reading level.  
Description
Follow along with Grace as she goes on her first whitetail bow hunt with her parents. In this exciting journey, Grace tests her morals, hunting intelligence, and bowhunting skills. Gracie experiences firsthand what it takes to be a sportsman. If you are a parent or grandparent who wants to keep the tradition of hunting alive, this is the perfect book for you. It is an enjoyable way for children to learn about hunting, respect, and the glory of being outside. "Grace Goes Bowhunting," has been endorsed by Eva Shockey, Jana Waller of Skull Bound TV, Adventuress Magazine, WON, Huntress View, and many more. See for yourself why some of the biggest names in the outdoor industry are encouraging their fans to read this children's book.
Gracie Goes BowHunting Book would make a great gift for birthdays, Christmas, or to prep for their first hunt.  
Reading level: 1 - 11 years
Print length: 34 pages

Language: English

Grade level: Kindergarten - 5

Dimensions: 8 x 0.09 x 8 inches
Publisher: Whitetail Press, LLC
Illustrator: Marvin Teeples
View full details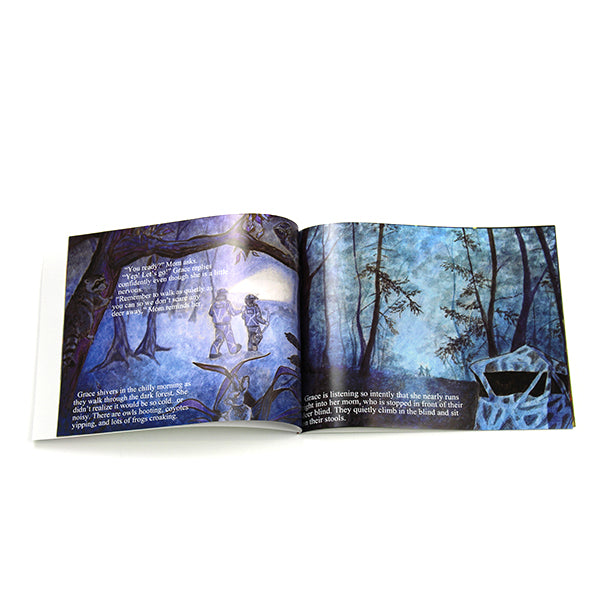 Free Shipping to Alaska, Hawaii, and US

No surprises at checkout, unless you live internationally the price you see is the price you pay. Simple and uncomplicated.

Shipping Info

Hassle-Free Exchanges

Buy with confidence!! We will ensure you get the right product you intended to buy. We offer 100% money back or exchanges for the right size.

Returns Info