Share
Regular price
$59.95 USD
Sale price
$55.99 USD
Unit price
per
Sale
Sold out
Petzl TACTIKKA RGB 350 Headlamp:
Petzl TACTIKKA RGB 350 Lumens Suitable for hunting and fishing, a compact and powerful headlamp. While hunting, fishing, or observing nature, use the Petzl Tactikka + RGB headlamp to ensure stealth. It offers 350 lumens of brightness and red, green, or blue illumination to preserve night vision. Designed for activities where stealth is key (hunting, fishing, nature watching...), the TACTIKKA +RGB headlamp offers powerful 350-lumen brightness. It has a mixed beam for proximity and distance vision during movement. It also has red, green, or blue lighting to preserve night vision and ensure stealth. TACTIKKA +RGB comes with 3 standard batteries and is compatible with the CORE rechargeable battery, thanks to the HYBRID CONCEPT design. The Petzl TACTIKKA RBG headlamp is great for survival kits, bug-out bags, and home emergency kits. Although this headlamp doesn't have the storage life of the Petzl e+Lite, you're guaranteed to have light for your child when you need it the most. The Petzl TACTIKKA RGB has increased waterproof protection and also ensures that the headlamp will work even if it gets wet. This reassurance is great as your gear will be exposed to water at some point.
Petzl TACTIKKA RGB 350 Features
Hunting And Fishing Light Modes: Provides red, green, and blue light modes to ensure stealth and preserve night vision; Comes in three colors designed to blend into your surroundings.
Compact & Powerful: Up to 350 lumens of light and a beam distance of up to 90 m; Just 85g and 3 brightness levels so you get the right amount of light for any situation.
Battery With Versatility: Because of its HYBRID CONCEPT design, Petzl TACTIKKA RGB 350 is compatible with 3 AAA batteries (included) and CORE rechargeable batteries (sold separately).
Clean & Easy To Use: Light modes and colors can be selected with a single button; The headband can be washed between adventures
Five-Year Guarantee: To ensure our products are ready for adventure, we test them beyond recommended standards. Petzl TACTIKKA RGB 350 includes a 5-year guarantee against material or manufacturing defects.
Petzl TACTIKKA RGB 350 Specifications
Best Use: Camping
Red Light Mode: Yes
Brightness: 350 lumens (ANSI/PLATO FL 1)
Weight: 85 g
Beam pattern: mixed
Energy: Three AAA/LR03 batteries (included) or CORE rechargeable battery (available as accessory)
Battery compatibility: alkaline, lithium, or Ni-MH rechargeable
Certification(s): CE
Watertightness: IPX4 (weather-resistant)
Bulb Type: LED
Beam Type: Flood
Brightness Levels: 3
Rechargeability: Non-rechargeable
Dimensions: 5.3 x 4.9 x 1.7 inches
Lighting performance as defined by the ANSI/PLATO FL 1 protocol
Lighting color
Lighting levels
Brightness
Distance
Burn time
Reserve
white
MAX BURN TIME
6 lm
10 m
160 h
-
STANDARD
100 lm
45 m
12 h
30 h
MAX POWER
350 lm
90 m
2 h
60 h
red/green/blue
continuous
2 lm
5 m
60 h
-
strobe
visible at 700 m for 400 h
View full details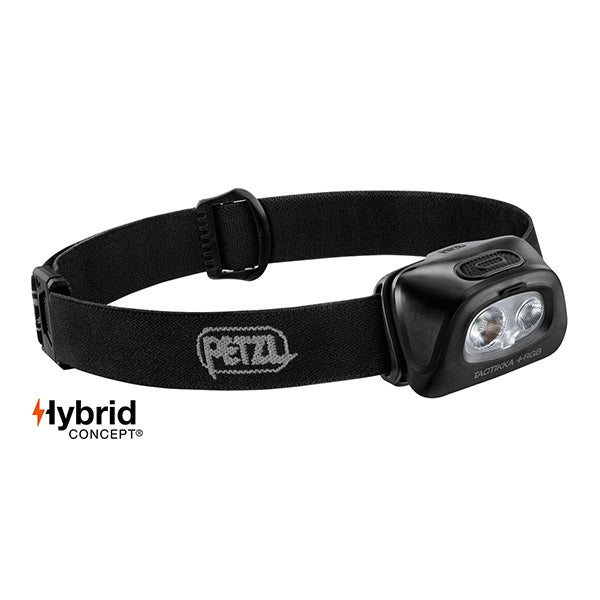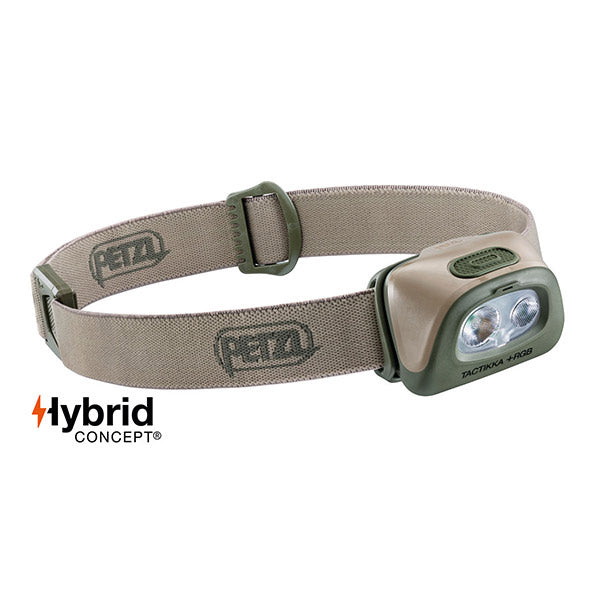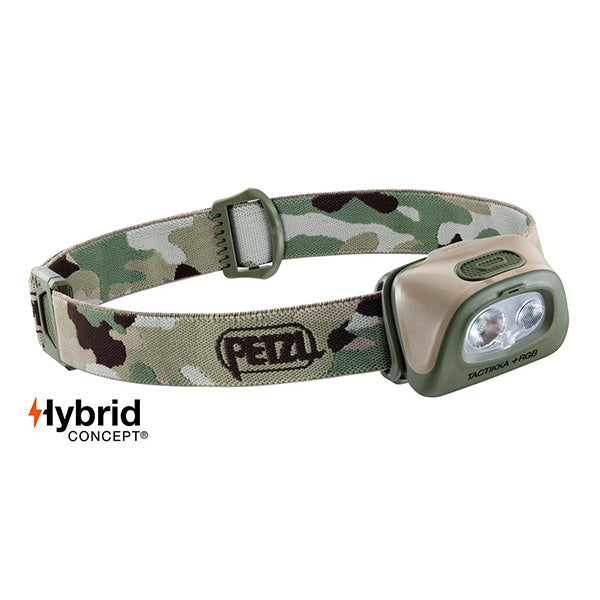 Free Shipping to Alaska, Hawaii, and US

No surprises at checkout, unless you live internationally the price you see is the price you pay. Simple and uncomplicated.

Shipping Info

Hassle-Free Exchanges

Buy with confidence!! We will ensure you get the right product you intended to buy. We offer 100% money back or exchanges for the right size.

Returns Info